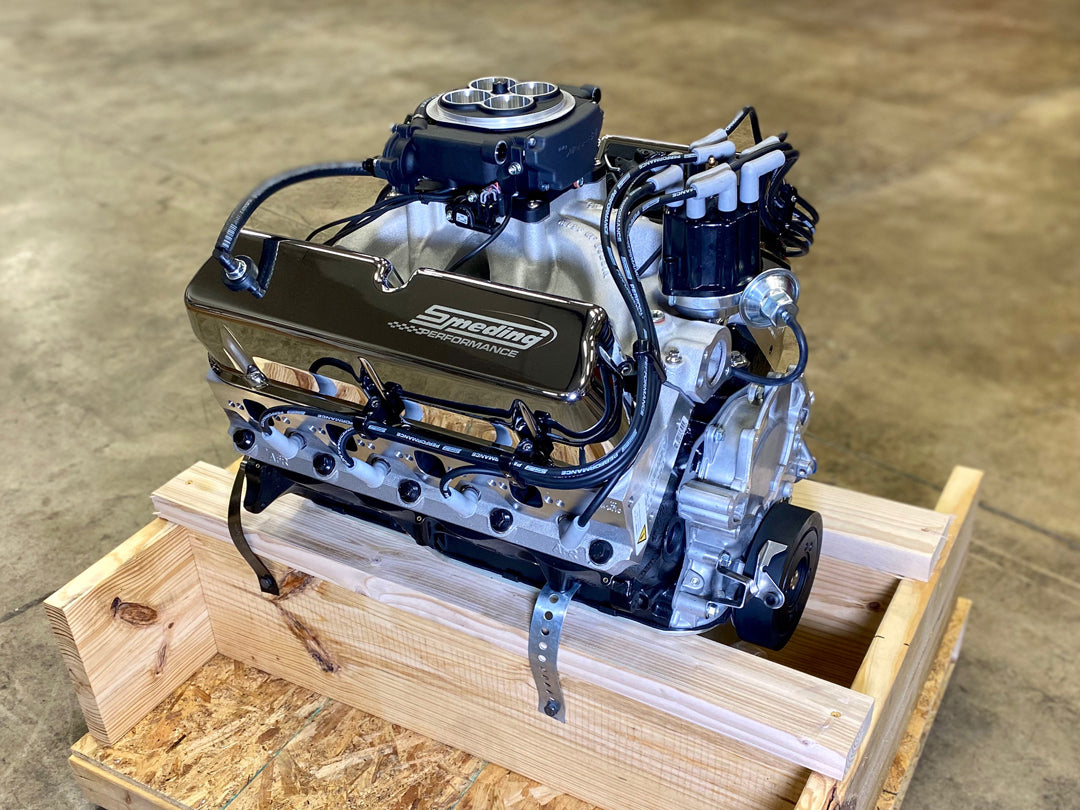 Jun 16 , 2023
It's that time! Like Christmas, only better. You've carefully selected each component, from the rear differential to the wiring harness, and even the air conditioning kit. But what about the heart of your ride? The powerhouse that will bring it to life? It's now time to pick your engine! But there are so many choices! Shouldn't I just pick the one from the factory?  It's so expensive though.  What should I do? That's where custom engine builders step in.
When it comes to finding the perfect engine for your vehicle, there are a multitude of options available. From off-the-shelf solutions to custom-built powerhouses, the choices can be overwhelming. So, why should you consider turning to custom engine builders like Smeding Performance? Well, strap in, because we're about to rev up the engine of knowledge and give you all the reasons why.
With over 10,000 engines powering vehicles across the country, Smeding Performance has cemented its position as one of the premier providers of custom crate engines and high-performance parts in the United States. Led by Ben Smeding, a man with an undeniable passion for horsepower, this team of automotive enthusiasts knows a thing or two about building engines that deliver jaw-dropping performance.
What sets Smeding Performance apart from the rest? It's the unparalleled craftsmanship and attention to detail that goes into every engine they build. Ben Smeding started this venture back in 1991, working tirelessly in a small California garage. In 2008, he brought his business to Texas, where it has flourished ever since. With over 70 years of combined experience within the team, you can rest assured that your engine will not only meet but exceed your expectations.
Speaking of expectations, Smeding Performance doesn't just meet them; they shatter them. How do they achieve this feat? By utilizing state-of-the-art manufacturing and machining equipment, they ensure that each engine they produce is of the highest quality. Whether you're eyeing a Chevy 383 Block, a 427 Shelby Cobra engine, an LS3 short block, or a Chevy 406 engine, Smeding Performance has got you covered. Their expertise extends to both big and small block engines, offering a wide range of options for all your performance needs.
But what truly sets Smeding Performance apart from the competition is their dedication to customization. They understand that every car enthusiast has unique preferences and requirements, and they embrace the challenge of creating an engine that reflects your vision. With their flexible packages and customizable options, the team at Smeding Performance will work closely with you to build an engine that is tailored to your specifications. It's like having a personal engine designer at your fingertips!
At Smeding Performance, they don't just build engines; they build relationships. Their commitment to providing exceptional customer service is as robust as the engines they create. From the moment you reach out to them, you'll experience their passion for automotive excellence. The team will guide you through the process, answering any questions you may have, and ensuring that your engine-buying journey is nothing short of extraordinary.
So, why wait? If you're in the market for a Chevy small block engine or any other high-performance powerplant, Smeding Performance should be at the top of your list. With their extensive experience, cutting-edge technology, and unwavering dedication to customer satisfaction, they are the go-to custom engine builders for car enthusiasts across the nation.
Take the first step towards unlocking unrivaled power and performance. Head over to www.smedingperformance.com  to find out what makes a Smeding engine truly special. Don't settle for ordinary; embrace the extraordinary with Smeding Performance.
Your dream engine awaits.